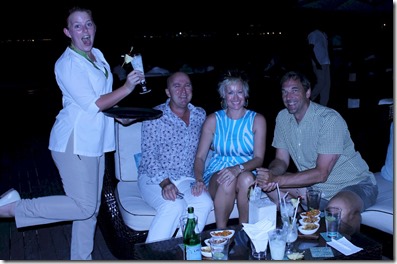 One of the highlights of our summer tour this year was a pageant of a different sort. Less appealing to the sense of vision and more enticing the other senses of smell, taste and texture feel. The first ever "Pina Colada Off".
When I tour the Maldives, there are a few non-negotiables in the itinerary. I must get a shot of us in front of the resort sign. I must snorkel every house reef (I've even jumped in during a few quite rough seas at times just to get a look at the seascape below). And I must sample the resort's pina colada.
The pina colada is the iconic tropical drink. And like port with cigars and cards, or schnaps on the ski slopes, there is something that makes it irresistible in this setting. I rarely have pina coladas outside the Maldives (and when I do, it never tastes as good).
For me, the pina colada is a very useful acid test for a resort. It is complex enough that there are quite a range of possibilities in both style and quantity (more on the pina colada drink itself in a future post). I started including my "Pina Colada Test" assessments as a part of the Tour highlights reports posted on the TripAdvisor Maldives Forum. And frequent Forum Contributor, GM Jason Kruse, felt that the gauntlet had been laid down and he was not going to take this colada challenging lying down (even if it was on a lying down on a deck chair under the tropical sun with the water lapping inches away).
This virtual drinks derby was a point of pride for Kurumba. The resort whose very name embodies the coconut essence of the colada. So Jason's Beverage Manager Courtney Hendrick (far right picture above) organised the first ever "Pina Colada Off" for out visit and served as our effervescent mistress of ceremonies.
And a lavish affair it was. In all my years as a pina colada aficionado, I have never experienced such imaginative and well-crafted coconut cocktails. The judging was intense with Craig Revel Horwood levels of scrutiny and discernment.
Bandara won "Best All Arounder" (he prides himself on his pina colada). Rohan's was the "Coldest" (a criteria as important to me as heel leads are to Len Goodman), and Oliver was the "Most Inventive" (always an exceptional kudo here on Maldives Complete).
I think they are all definitely contenders for some of the top pina coladas in the Maldives. Not sure I have enough data points to crown any of theirs the absolutely #1 (also, an amazing one I had at Constance Halaveli haunts me). But their inventiveness and variations on the theme is unmatched completely.
It turns out that Courtney and Jason held their own not-so-dry run the day before and this is what Courteney reported…
"I was brand new to Kurumba and upon receiving an email of [Maldives Complete's] expected arrival I decided to challenge all those willing to participate (those I had met and some I had not yet met) to come up with their very best version of the all-time island classic the Pina Colada. I cannot begin to describe how blown away I was by all team members who participated, their creativity and determination to not only produce their best Pina Colada but also to win the challenge was simply astonishing. However, Jason, Morgan, Ross and I had to make the very tough decision (I know hard life right!) which Pina Colada's do we present? We decided on 3: Bandara's, Oliver's and Rohan's. I chose Oliver's Pina Colada as the tops because I was so impressed with his thinking behind the making of his Pina Colada. When Oliver got behind the bar the first thing he said was 'A Pina Colada should be consistent from beginning to end it should not separate…' and thus the most creative and inspiring Pina Colada was born!"
Kurumba has been gracious enough to share their recipes for anyone dying to sample these delightful variations (add your own palm trees, sunsets and turquoise seascape):
Bandara's: Athiri Bar Supervisor and Pina Colada Extraordinaire!!!

Ingredients: 30mls Coconut cream, 30mls Monin Coconut Puree, 30mls Malibu, 30mls Appleton's White Rum, 90mls Pineapple juice (half fresh half concentrate).
Method: Blend all ingredients without ice in a blender, FILL Pocco Grande glass with large cubes of ice and pour over.
Garnish: Slice of pineapple and a cherry.

Oliver's: Brand New Bartender to Kurumba

Ingredients: 5x Cubes fresh pineapple, 30mls Coconut cream, 3x Ice cream scoops of house-made Coconut Sorbet, 30mls Malibu, 30mls Appleton's White Rum, 30mls Monin Coconut Puree.
Method: Blend pineapple chunks in a blender to create a finer texture. Add all other ingredients without ice to the blender and blend for 1 minute. FILL Pilsner glass and garnish.
Garnish: Slice of pineapple and a cherry.

Rohan's: Long standing Bartender and Shaker Extraordinaire.

Ingredients: 10 grams Fresh pineapple, 30mls Coconut cream, 30mls Malibu, 30mls Appleton's White Rum, 60mls Pineapple juice
Method: Muddle 10grms of pineapple in a Boston glass. Add all remaining ingredients to the shaker, shake and strain over ice in a Highball glass.
Garnish: Slice of pineapple and a cherry.
Have a Kurumba Krimbo!