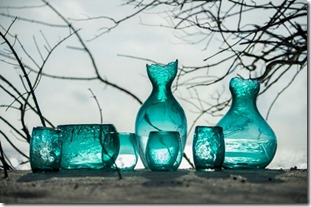 When people think "Maldives" and "glass", they think about the dramatic glass floors that have become de rigeur in the luxury water villas. These transparent apertures provide a portal to the main event of the Maldives – its colourful seascape below. Now Soneva Fushi is producing visions of glass just as striking and stylish…but you can take home with you. Soneva has opened a glass studio on the resort to create all sorts of aquamarine pieces of art.
Furthermore, the pieces are not only a memento of your experience, but are literally a part of your experience. The eco-obsessed Soneva uses only discarded glass from the island. So you can take home that bottle of the wine you drank in the form of a glass to commemorate your stay.
"The first glass studio in the Maldives has opened at Soneva Fushi, the award-winning luxury resort located in the Baa Atoll, where guests can watch world-renowned glass artists create objects of art, and learn the art of glass blowing. The state-of-the-art facility also includes a retail boutique and art gallery, which are designed as platforms to exhibit the work of the Maldivian and international glass artists. The facility uses only waste glass materials used at Soneva resorts and other resorts in the Maldives. It is estimated that more than five tonnes of glass waste is produced by resorts in the Baa Atoll alone, every month. 'The idea behind this project is turn the glass into something that is much more beautiful and valuable than it was in its previous state.'"
A few years ago, our daughter gave us a Christmas gift of a session in a glass studio and it was fascinating. Not only did we get to watch and contribute to the molten fluidity of working with the hot glass, but we also took home two tree ornaments that we designed and helped "blow".
If Maldives is the Venice of the tropic, then Soneva is now its Murano.