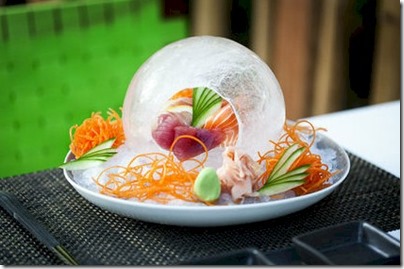 No, not "Ice Ball" as in a "Frozen"-themed formal dance.
I love creations with ice. The cold is the contrast that sets off the tropical sun. I'm even adding a new category tag for "ice" now that I have collected a few fine examples.
Most treats in the Maldives are served refreshingly over ice. But NIYAMA's signature sashimi is served under ice.
Offered in NIYAMA's "Asian Avant-garde" Nest restaurant which Per Aquum describes as "savage-chic" (great name).
Chef Jayadi Suwito explains, "My goal for this menu was to push and tease. Guests will find dishes from Asia's most celebrated cuisines like Thai, Cantonese, Japanese – but they will also get a chance to discover lesser known culinary traditions with must-try sensational dishes from places like Cambodia, Indonesia and Myanmar."
I tend to ignore the vast majority of press releases that I receive, but I must commend the PR who wordcrafted this gem describing the "Ice Ball" experience…
"A short trek from your luxury villa where you've cast away in the Dhaalu Atoll, you emerge in the heart of the jungle. Beneath the ancient branches of the banyan trees, you walk the planks of wooden pathways and wind through the forest trunks. Ascend spiralled stairs and step through the canopy along bridges flanked by bamboo rails. Leaves dance in an ecstatic shimmy. Tropical birds call out with sirens echoing through the treetops. Then a chilled sculpture of sashimi arrives in a globe of ice, a modern vessel for one of many Asian delicacies you will savour in your expedition at one of the Indian Ocean's leading dining destinations."
"Leaves dance in ecstatic shimmy" – Nnnn-ice!