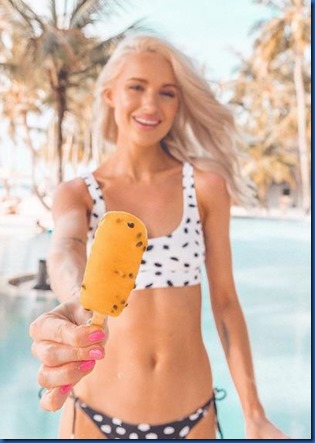 Gili Lankanfushi is concocting its own magical wands of tasty wizardry with its custom recipe Pool Pops.
"This is a popsicle from Fini Foni – our popsicle and ice cream bar at the pool side. Popsicles are chargeable, but during the afternoons we do offer it as a poolside Gili Refreshment. We do have different Gili Refreshment at the poolside available for guests throughout the day."
The menu includes the following lollygagging lollies…
Non-alcoholic

Paleta Passion (photo above)
Gili Spa
Power Bar
Sun & Sea
Bodu Beru

Alcoholic

Pina Colada
Sangria Al Espagina
Fini Bubbly
Ghiaccioli Mojito

Weekly Special
Their icy assortment makes a double "Finally Seen":
Frozen Juice Pops (#6 from post #5)
Poptails (#7 from post #5)
I've even added the new Tag "Frozen" hoping more will come out of the freezers.