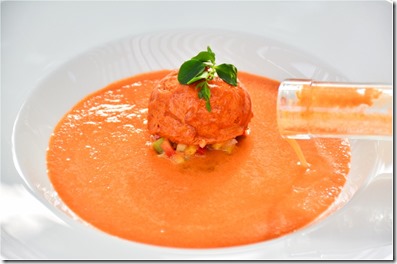 Another one of my favourite treats is soup in general, and gazpacho specifically (I also love a good bisque). A well crafted soup is like a savoury cocktail where masterfully blended aromas, flavours and textures inspire the taste buds. One of the defining characteristics of a fine gazpacho is its cold temperature. Especially appreciated under the tropical sun. No resort gets it as ice cold as Park Hyatt Hadahaa.
Their signature bowl includes a dollop of 'gazpacho sorbet' scooped into the centre of the bowl to help keep the soup chilly while you eat it. I enjoyed a bowl when I visited and it remains one of my most memorable dishes of my Maldives travels.
The dish was originally created for their olive oil dinner by Monte Vibiano and now is part of its regular menu. Its olives are grown in carbon neutral groves and pressed into some of the finest extra virgin in the world.
Deliziosamente fresco!