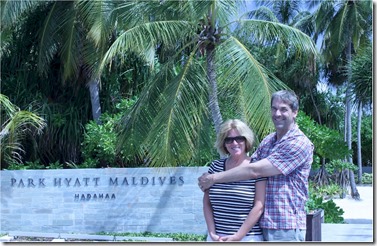 As if to trumpet our arrival to one of the most eco-obsessed resorts in the Maldives, the very icon of environmental-friendliness – the dolphin – came out to greet us during our transfer to Park Hyatt Hadahaa. Not just a token welcome party, but a teeming hoard of spinner dolphins jumping, scudding and cruising up to the boat on all sides. I tried to count them, but gave up at 80.
Immediately, Hadahaa's intimate connection with nature strikes you. The single central byway is completely shrouded from the tropical sun by a dense canopy of palm and other foliage. The resort lets the fallen fronds lay where they fall (most resorts will sweep this debris up) blanketing the surrounding undergrowth with a thick duvet of leaves. But it doesn't seem unkempt in any way as the main path is clear and tidily edged. When you emerge on the beach, you sink ankle deep in powder white sand (the softest I'd walked since Maafushivaru).
The marquee nature attraction at Hahadaa is the house reef. Reputed to be one of the very best (certainly top 10), it didn't take long before Lori and I donned our gear and leapt in to explore. Immediately, you could see the how it got its reputation. Hadahaa is one of the rare house reefs where the coral growth extends richly into the lagoon as well as in and amongst the water villas (lagoons and the water villas that are often built on them are often mostly expansive sandy beds). The drop off was readily accessible and teeming with both fish and coral. We came back across the lagoon on return to swim among the coral croppings there. Often such growth gives one the sense of a coral garden. Hadahaa was more like a coral jungle. In fact, a recent marine biology survey assessed that Hadahaa had over 100% coral on its reef. This mathematical anomaly results from the fact that a number of table corals had tumbled down the reef drop off and now there were literally corals growing on top of them. There were corals on top of corals.
General Manager Julian Moore explained why Hadahaa (and many of the other Gaafu Alifu islands) have such excellent reefs. The atoll is the biggest atoll not just in the Maldives, but in the world. It spans about 70 kilometers north to south and 50 kilometers east to west. It is also one of the deepest. This combination brings both a rich flow of nutrients while providing a buffer of protection from storms to islands and reefs inside the atoll.
Welcome to the jungle.