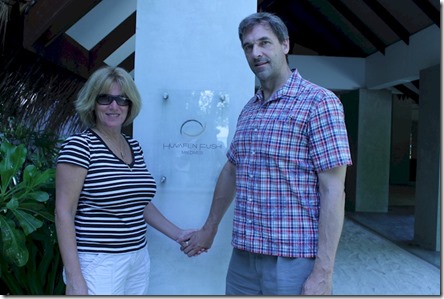 Inspired. Huvafenfushi is one of the Maldives' pioneers in inspired luxury. One of the founding fathers of the super deluxe experience where resorts try to concoct service, facilities, and experiences as jaw-droppingly heavenly as the destination itself.
Actually, Huvafenfushi's island was our second visit to the Maldives as a family back in 1999. Back then it was called Nakatchafushi and we were drawn to it by its reputation for having one of the best house reefs in the Maldives. Since then Huvafenfushi burst onto the Maldive scene with a virtuosity of style and distinction that was acclaimed as one of the very best resorts not just in the Maldives, but in the world. As its esteem and reputation grew, its prominence on my bucket-list did as well.
When we arrived at our water villa, not only were we treated to the aquatic delights of tropical fish scampering about beneath us, but a quartet of terns were similarly diving and soaring feet away from our deck hoping to make a little sushi snack of those fish.
The marquee feature of the resort is the infamous Underwater Spa. I must confess that both Lori and I wondered what the point would be of creating one of the most spectacular views somewhere where you just end up lying face down with your eyes closed so you miss it all. Well, first of all, positioned under the table beneath the head rest is a mirror which is aimed right at the window so you do watch the fish swimming by. Secondly, the therapist asks you if you want to have your treatment interrupted if she spies something particularly interesting like a shark swimming by (yes, please!!). Finally, after your massage you are treated to tea and they have an expansive lounge bed set up by some of the windows so that you can linger in the glow of your massage watching the aquatic world drift by in front of you.
And frankly, the spa treatments are only the tip of the iceberg of some of the astonishing experiences Huvafenfushi have devised at that innovative sub-marine facility. Stay tuned for some of the 19 Best of the Maldives pieces I came away with from my visit. Combined with the 10 I have already posted, that puts Huvafenfushi up in the elite ranks of the 'Best Of' league table. Right where you would expect.