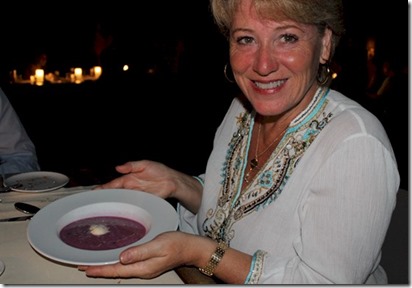 QI question of the day: Q: What is the base ingredient of gazpacho at Velaa? A: Tomato? Q: Buzzz…wrong. It's cabbage.
Velaa not only served two of my favourite soups – gazpacho and bisque – but they did so with an entirely refreshing slant. In many respects, they were nothing like gazpacho and bisque and everything like them at the same time.
For starters (pun intended) the gazpacho had no tomato (pretty much the defining ingredient to gazpacho – "Spanish Cookery. 1. a soup made of chopped tomatoes…"). Instead, it uses red cabbage as the base. It also blend in green apple and passion fruit which is a bit more exotic than the classic cucumbers and onions.
Their "Laccadivian Essence" (named after the Maldives sea) was really a bisque of lobster, coconut, fennel, and seaweed. Both were Michelin star quality. They were sort of non-bisque bisque and non-gazpacho gazpacho.
The inventive twists reminded me of the food-play by Heston Blumenthal at his world-famous restaurant the "Fat Duck". Just down the road from us in the UK, we used to go when Heston first started playing with his culinary chemistry set. We were sometimes the only people dining there and he would step out of the kitchen to have us try some wonderfully weird new concoction.
One of Heston's signature dishes was the Orange and Beetroot Jelly. As 'Boots in the Oven' describes…
"The mousse was trailed by two small trays bearing two squares each; one a garnet red and one a deep yellow. The waiter explained that we would be eating orange and beet root jellies. This opening dish is the perfect example of the Fat Duck dining philosophy. Heston and his team don't just want you to have an awesome eating experience; they want to f*ck with your head." [HINT – Not is all as it appears]
In fact, Velaa's gazpacho might just have been inspired by Heston as Red Cabbage Gazpacho also featured is on his menu years ago.