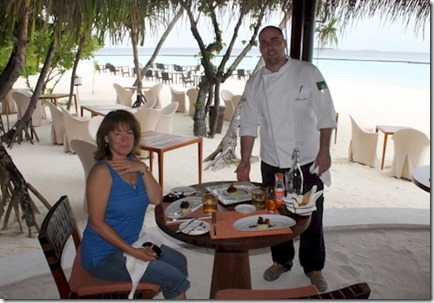 Meat and potatoes. The most basic and humble of dishes. But in the Maldives, even the simplest things can get the luxury treatment. The beef is not typically at the top of the menu at the Maldive resorts. Yes, they import it (usually from Australia) to cater to its popularity, but most of the culinary attention is directed to the location driven seafood fare.
And as a red-blooded American, I have had my share of exceptional beef often at the steak houses that dominate the USA restaurant landscape. Eateries like Daniels Broiler in Seattle, Masterpiece in Kansas City, and Mortons about everywhere. But I have never experienced beef like I have at Constance Halaveli.
The head chef there Holger Joost (see photo above) treated us to a taste of one of his signature dishes – Tazmanian Wagyu Beef Cheeks, slow cooked for 48 hours with local mangos and chillies served with wasabi potatoes. I had had "cod cheeks", but never "beef cheeks". Holger informs us they are one of the finest cuts of this very special breed which is a cross between the Kobe variety and Black Angus. Pure Kobe can be as much as 50% fat which can be a bit much for some palates. The Tazmanian Wagyu is a finer balance between flavour imparting fat and the tender meat itself.
Are we picked up our knife and prepared to dig in, Holger stopped us and said "no need for a knife…use your spoon." He claimed the meat was as soft as butter, but he was wrong. It was softer. A bite literally did melt on your tongue with subtle flavours filling your mouth.
Not to mention that the next time we serve even our humble UK beef we are going to try a recipe for "wasabi potatoes" which were an inspired complement to the beef.
There's the beef!