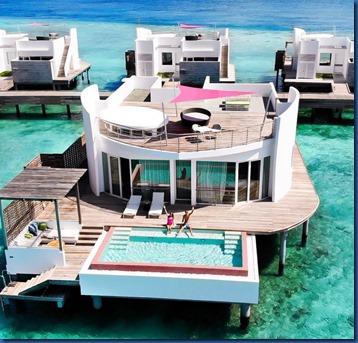 Where to begin with the LUX* North Male Atoll? Tour 2019 came back so many candidate "Best of the Maldives" features for LUX that it's hard to choose. Maybe just start at the top. And I do mean tippy top. With a crowning distinction which plays to a long loved aspect of mine when resorts find a way to highlight this defining characteristic of the Maldives – vistas.
From the moment your flight approaches the Maldives archipelago, you are mesmerized by the expansive vista of blues spreading out beneath you across the ocean. Unfortunately, with a destination known for its diminutive elevation, most views of this aqua-coloured dreamscape are are obliquely cast across the surface. Just getting a bit of elevation can extend and enrich the panorama of blue pantones before you.
I've long had a "Vistas" as a "Best Of" category tag, and LNMA provided several to add to that collection. In fact, the vista is one of the central design tenets of the entire property. Every single villa is architected around an open rooftop deck with king-sized loungers for lying back to gaze with equal comfort and wonder at the waters below or the heavens above. They even have a name for this area – your "Sky Lounge". You can have dinner served there (including an open-air BBQ), have a film under the stars projected there, or just sit and enjoy the 360 degree scenery.
But its not just your villa where you can enjoy the vertical perspective. The INTI restaurant is situated on a second floor with a completely open view of the pool and beyond. The Café LUX coffee shop sits upstairs looking over the ocean. Even the kids club offers a raised floor with a view.
LUX North Male Atoll just raised the bar on enjoying Maldives ' spectacular vistas.