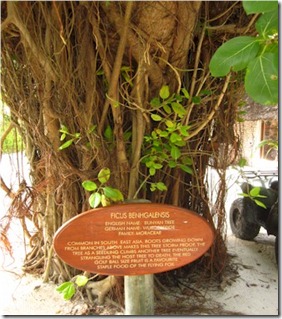 If you don't have a tree guide book to hand but still want to know the identity and stories behind some of the striking landscape on the island, then you will appreciate Kuredu.
We often describe the Maldives as a plot of sand and a few trees. Everyone loves the sand bit, but the trees often go unmentioned and unappreciated. The palm trees are certainly a prevalent fixture, but the islands also have an arboretum of tropical curiosities like the Banyan, and (one of our favourites) the Walking Pine.
"Hernandia Nyphaeifolia – English Name: Lantern Tree…Grows up to 20 meters high and found in coasts of East Africa, Asia, and Polynesia including South Pacific. The seeds of this tree are spread by bats, the leaves, fruits, seeds and bark of the tree is said to have medicinal values. Tahitians polish the seed and make necklaces."
Kuredu has posted a series of handsome and informative signs at prime examples of arboreal distinction across the resort which adds a bit of natural interest and insight during your strolls.