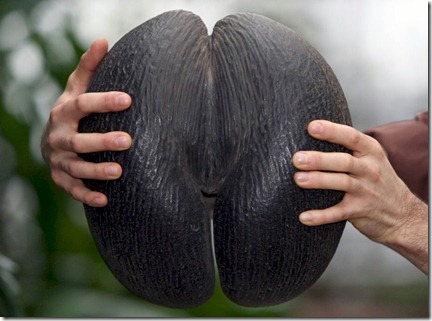 Having recently had a beer with a writer from QI and keeping up the humour, I thought it time for the next installment of 'Maldive QI'…
Q: Where do you find the 'Maldives Coconut'?

A: Maldives?

Buzzzz!
The 'Maldives Coconut' is very much a part of the Maldives history, but curiously not part of the Maldives itself. Der Spiegel recently did a piece on the intriguing nut…
"The captain surely imagined it all a little differently. The French adventurer Francois Pyrard intended on sailing to India in 1602. But when his ship Corbin gave out on the open seas, he had to seek refuge in the Maldives. Unfortunately, the king there wouldn't let the shipwrecked party leave for five years. When Pyrard and his crew were finally able to flee, they took the tale of the strange fruit with them back to Europe. It had been found frequently on the beaches of the islands. It wasn't just that they were gigantic, the fruit's shape was also reminiscent of a woman's pelvic region. The king demanded that these alluring finds be delivered directly to him, and threatened that those who didn't comply would lose a hand, or even be put to death. What Pyrard saw was the nut of the Coco de Mer palm, one of the rarest palm trees on the planet, also known as the Lodoicea maldivica. It is three to four times as large as an average coconut. They are also heavier than anything comparable that biologists can find, weighing up to 20 kilograms (44 pounds)."
It actually grows in the Seychelles, but makes its way to its namesake islands ("maldivica") floating on the Indian Ocean waters which may account for its colloquial name, 'Coco de Mer'. Der Spiegel describes this intriguing species in some detail on the occasion of the Botanical Garden in Berlin succeeding in germinating it. Despite its rather fertility-suggstive appearance, it is actually dubbed the 'Panda of the Plant World' for its difficulty in growing.
I researched the beguiling nut talking to Verena Wiesbauer Ali who not only helped with the previous QI pieces, but also co-authored the first definitive picture guide to the flora of the Maldives 'Maldives: Trees and Flowers of a Tropical Pardise'. There are dozens of various guide books to the underwater delights of the islands, but this is the first that provides a comprehensive catalogue with dazzling colour photos for land lubbers. You can get a copy by writing to the co-authour Peter Dittrich (25 Euros) to find out what coconut palms and every other type of colourful and curious tree and plants that do grow there.