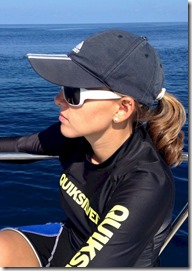 When I first started coming to the Maldives, a few marine biologists kicked around the atolls usually on their own initiative maybe working on some research project. Now, every self-respecting top-fight resort has its own staff "MB" to provide presentations to guests, offer expert tours of the marine life on outings and also to support the resort's eco-friendly initiatives to keep the reef and island healthy and vibrant.
I've meet dozens at this point, but one really stands out – Verena Wiesbauer. We first met her when he gave one of the best presentations on Maldives marine life at Kurumba a number of years ago. . She works as part of the "Eco-Islanders Maldives" organisation that helps resorts with a number of environmentally friendly initiatives especially around reef preservation. She's the only Maldives MB I know of who is a published author on the Maldives. I've already featured her book, "Trees and Flowers of a Tropical Paradise" in one of the "QI – Maldives edition" series posts. In fact, she is a veritable "Maldives QI Elf" being by far the most prominent contributor to the quirky facts of that Maldives Complete series of posts.
In fact, in general, she is the most active MB contributor to Maldives Complete. She is always promptly responsive to questions I have and regularly offers up fun and useful information. Of course, she came into her own when I launched the "Dive Site Complete" feature. I have received material and information from many MBs across the country, but Verena has provided more support and material than everyone else combined (including the comprehensive list of the MPAs).