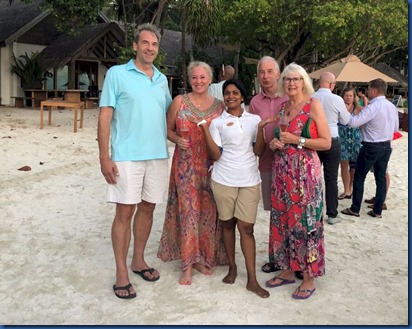 "Luxury is not about buying expensive things; it's about living in a way where you appreciate things." – Oscar de la Renta
Happy Thanksgiving. Today is a day for celebrating gratitude especially first and foremost the company of family and friends. As the pandemic resides, appreciation for such company has never been so strong. Last Thanksgiving, Lori and I were huddled around our small kitchen table with a Zoom session to our children. We can't wait to all be together sharing thanks for so many blessings we cherish all the more.
Appreciation is also a traditional part of our family travel experiences. Also around a dining table (typically the final meal of our stay) we play something we call the "Interview Game". The exercise derives from my journalistic inquisitiveness and consists of a number of very simple questions (as a opposed to deep, philosophical ones) which I find to be very illustrative of the highlights and impact of the adventure. Regular followers here will recognize many of the questions used in my interview profiles. The activity is really an exercise in reflection, appreciation and sharig. And that is the heart of Thanksgiving.
On my recent tour, I had the serendipity to meet one of the esteemed TripAdvisor Destination Experts, "Dianna53" and her husband Steve. Their extensive expertise derives from decades of regular Maldives visits dating back to their honeymoon in 80s (!), as well as the fact that their daughter ended up living in the Maldives (Addu) for a stint.
Actually, we've now met 5 Tripadvisor Destination Experts while in the Maldives (except for MioraD)
Our meet up took place at the end of their couple of weeks at both Reethi Beach and Amilla so we decided to share the Interview Game with them. Below are their responses as well as Lori's and mine from the end of our stay:
What is omething you packed that you didn't use?

Dianna: Torch
Steve: One shirt
Lori: A dress, a top, some underwear and some shoes
Bruce: Several button shirts and some books I brought to read.

What is something you wished you have packed?

D: Extra backet of biscuits for tea in my room.
S: I had everything I needed.
L: A small satchel to carry my phone, room key, etc.
B: My good razor from home (thinking my disposable one would be good enough…it wasn't)

What most exceeded expectations?

D: Coral regeneration at Amilla (especially by the jetty).
S: Transfer efficiency (we were quick off the plane, there was no queue at immigration, our bags came off first and it was a total of 35 minutes from landing to being at the seaplane).
L: The diving in general as had lots of great sightings and in the past, many times, we have seen anything on some dives.
B: Soneva Jani design details. I knew from the pictures that it was a stunning property, but being there you can see and appreciate the tiny details put into nearly everything.

What didn't meet expectations?

D: Didn't see any turtles.
S: The sea conditions were so rough the entire time with all the wind.
L: We've been disappointed in recent years by the quantity of coral seen during our snorkeling, and now there is (naturally) a real sense of the fish populations being noticeably smaller.
B: The Biyadhoo house reef was renowned to be one of the top ones in the Maldives years ago so its state of dead coral and limited fish was particularly painful to see first hand.

When did you laugh the hardest?

D: When we emerged from the sea from snorkelling and trudged along the beach in the torrential rain and it was so heavy we couldn't see where we were going so I donned my full face mask (wishing it had windscreen wipers!).
S: When a Titan triggerfish swam straight through Dianna's legs.
L: When Bruce said "Gee, thanks" when I commented "That man over there is quite handsome. He looks like you (Bruce)…when you were younger."
B: Lori's first slide at Sonevi (which you can witness here and I will be playing daily for the foreseeable future).

When was your most stressful point?

D: 3 days before arrival, Reethi Beach were on monitoring.
S: 3 days before arrival, Reethi Beach were on monitoring.
L: When my mask broke during the dive. It kept filling up with water and I couldn't clear it. Fortunately, the dive master was able to fix it good enough to finish the dive.
B: When we got word that Soneva Fushi was on monitoring which was going to cause us to rejig our entire itinerary.

What was your best bite of food?

D: Good ole "fish & chips" at Reethi Beech
S: Grilled lobster at Amilla
L: Prawns a la Plancha at Soneva Jani's Crab Shack
B: Prawn Burger at Amilla Fushi's E Beach Club

What is something you learned?

D: That the Maldives has passed a law prohibiting the interference of baby turtles (even measures intended to help them survive).
S: "Bondee" (coconut and coconut milk cocktail wrapped in a coconut leaf) tastes very nice.
L: What a "Sponge Snail" is.
B: Using a torch for dive photography can scare off fish.

What was your favourite avourite Sighting?

D: Octopus (both at Amilla and at Reethi Beach).
S: Lemon Shark (never seen one before).
L: Spanish Dancer Nudibranch (video)…though I loved the bats at Soneva Jani in their arbor.
B: Manta on the Amilla dive.

What would you do if you had an extra day?

D: Go on a turtle excursion/.
S: If the weather was calm enough, go to Amilla Fushi's Blue Hole.
L: Do more diving.
B: Spa treatments (Biyadhoo so good and such value)