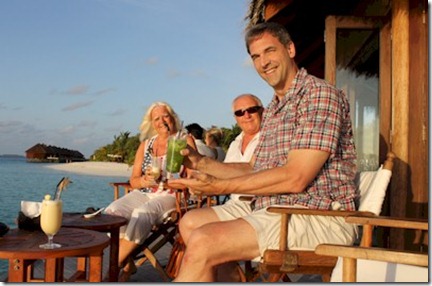 "If life gives you lemons, then make lemonade."
This is the week for blogging milestones as my other major (and longer standing) blogging pursuit – 'Bruce Lynn Blog' – celebrated its 7th anniversary yesterday. The site explores the themes of 'Leadership and Management' as well as 'Embracing Failure'. The two subjects are united in the common thread of how people deal with risk.
To celebrate the occasion, I thought I would post something apropos. Perhaps one of the all-time classic 'embrace failure' sayings is about making lemonade out of lemons, so I thought I would turn to the best and most varied lemonade I have found in the Maldives.
Mirihi offers 10 different signature cocktails at Muraka bar including the following tart treats…
Mihiri Lemonade – "Fresh muddled strawberries, aged rum, strawberry and vanilla liguer with soda."
Wild Honey & Orange Lemonade – "Vodka, Drambuie, Cointreau, honey, oranges and orange lemonade"
Green Tea & Chili Lemonade – "Green tea, fresh limes, Southern Comfort, Brandy and a bit of chili" (see above enjoyed with fellow TripAdvisor Forum contributor).
Admittedly, 'embracing failure' by drinking lemonade in a tropical resort isn't too hard of a sell.