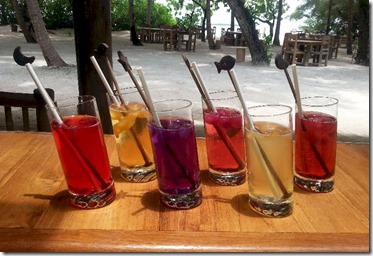 This weekend is the height of that colourful harbinger of English spring – the Chelsea Flower Show. And the perfect time to raise a glass to the most apropos accompaniment – Soneva Fushi's floral iced tea selection…
Roselle Flower – Roselle flowers have well documented antioxidants which are believed to tackle hypertension. Several studies have also shown that the roselle flower's antioxidants can reduce the risk of cancer and that they promote good health by enabling oxidative balance.
Butterfly Pea– Contains natural anti-oxidants and improves blood circulation. Helps prevent hair loss and greying hair. Cleanses blood, & improves night vision, revitalizes skin & hair. Nature's answer for aging with grace!
Chrysanthemum – Rich in chlorogenic acid, carotene, vitamins, and potassium, chrysanthemums offer a multitude of health benefits.
Bael – Bael assists digestion, combats disorders, ulcers, hypertension, diabetes, and numerous other ailments. The ripe fruit acts as a laxative but is not digested easily. Unripe bael fruit on the other hand, promotes digestion and cures diarrhoea.
Hibiscus – Hibiscus is believed to have anti –inflammatory effect, help lower high blood pressure, help lower uric acid levels in gout sufferers, and improve cholesterol and triglyceride levels in pre-diabetics and diabetics. Studies have shown that it also appears to inhibit the growth of human cancer cells in a petri dish
Rose Petal – Rose petals contain vitamins A, B, C, D, and E! The petals are also home to antioxidants, and they acts as a mild sedative, anti-depressant, and mood-enhancing agent. Rose water is antibacterial, anti-inflammatory, and can be used for all kinds of skin ailments from eczema to psoriasis…and even sunburns!
Cuppa flowers in elegant and vibrant surroundings.