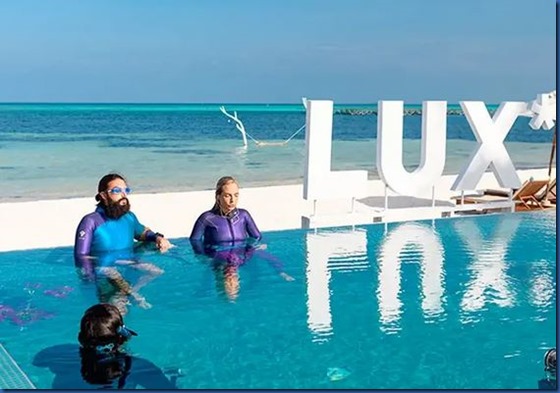 Happy Kissing Day! Maldives is a world-renowned destination for (a) romance, and (b) underwater delights. So where else to break a word record for underwater kissing?! LUX South Ari Atoll hosted the sub-aquatic smooch:
"Beth "One-Breath" Neal and partner Miles Cloutier – AKA Canadian Aquaman – have had their smooch certified by Guinness after a stay at the LUX resort, South Ari Atoll. On February 14 the couple locked lips in the resort swimming pool for an impressive 4 minutes 6 seconds. The record smashed the long-standing previous record (3 minutes 24 seconds), set thirteen years ago as part of the Italian TV show Lo Show dei Record."
Romance everywhere in the Maldives…above and below the water.