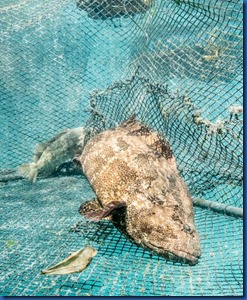 You'll should see more groupers at on the Six Senses Laamu house reef if Blue Marine work succeeds:
"Grouper in the Maldives are in trouble. Due to high demand and market prices, the Maldives grouper export fishery has escalated since the 1980s, spreading throughout the country. The most recent study in 2011 revealed a concerning situation: grouper stocks are declining and smaller sized fish are being taken. Larger fish have selectively been removed and fishers are targeting spawning aggregation sites. Recent catch data show that for the ten most commonly exploited species of groupers, 70% of individuals are taken prior to reaching sexual maturity, meaning that they had not had a chance to reproduce before being caught. The Blue Marine Foundation has formed a partnership with the Maldivian Ministry of Fisheries and Agriculture (MOFA) and Six Senses Laamu, a beautifully sustainable, luxury resort with a passion for marine conservation. In collaboration with MOFA, BLUE has designed a project to promote a better documented and more sustainable grouper fishery in the Maldives by protecting threatened grouper spawning aggregations. Research suggests that grouper have been overfished for at least 15 years in Laamu Atoll."
Blue Marine are the grouper groupies of the Maldives.
With this post, I've added the tag "Marine Life Conservation" to cover post about initiatives to save various aquatic creatures (bigger than coral polyps as those projects are covered extensively in the "Reef Regeneration" tag).