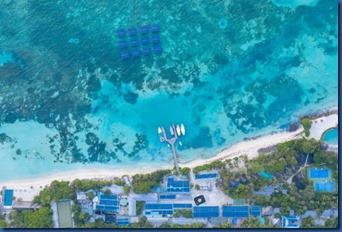 LUX South Ari Atoll floating solar farm is using the sea to save the sea. Exploiting the expansive areas of sun-drenched waters, their floating solar system is the not just the Maldives' largest, but the world's largest:
"This unique technology called SolarSea gathers solar energy directly on the ocean to power the island in an eco-friendly fashion. As part of the resort's commitment to sustainability, LUX* South Ari Atoll has pledged to minimize carbon dioxide emissions. To achieve this goal, the five-star luxury resort partnered with the leading solar provider Swimsol, an Austrian-Maldivian company, which provided a solution to overcome the limited space available for solar panels on small tropical islands. Consequently, Swimsol developed the first and only patented floating solar system that is designed to withstand the harsh conditions of the waves, storms and saltwater…The resort is already using a rooftop system with the same solar company. Once all suitable roofs were covered with solar panels, the resort decided to expand beyond the shoreline with twelve SolarSea platforms. Thereby the solar capacity increased by 40% and reached 678 kWp, enough to power all guest villas with solar energy during the peak sun hours. The result is cheaper energy and a saving of more than 260,000 litres of diesel per year that previously were needed to produce the same amount of electricity with combustion engines."
Sunny days to un-warm the ocean.