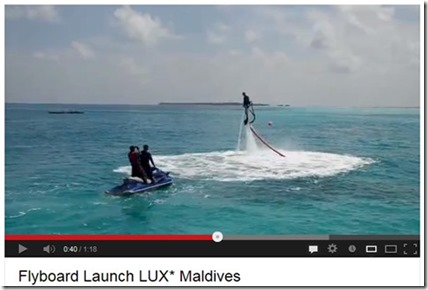 What shooting up in the air faster than a lottery winner's bank balance? Higher than the Chinese visitor stats? The LUX Maldives flyboard!
This activity had been in my draft of "Even More What I Haven't Seen" until Dolores dropped me a line. It didn't surprise me though that it would be LUX pioneering with such a rad adrenalin activity. LUX really stands out for its spirit of innovation and adventure. But also, LUX Maldives is a perfect location for it. Their sprawling size means it can be conducted on a discreet part of the island without disturbing other guests. Mind you if I was at LUX, I might shy away from trying it out, but I think it would be a fun thing to watch.
"Designed for active guests, Flyboard combines the excitement of motorized water sports to the, otherwise limited, liberty of movements based on the body balance to ultimately achieve the exceptional sensation of flying over the water. Flyboard has only been recently launched worldwide by the France-based Zapata Racing Team. By literally wearing a pair of boots connected to a board, the resort's guests can be lifted to heights of up to 10 meters thanks to the water jets placed under the board allowing them hover above the surface or to perform spectacular water figures. Taking the concept of luxury holidays on a lighter note, LUX* Maldives continues to look for original yet daring ways to surprise guests of all ages. 'Being a water sports fan myself, I immediately recognized the potentials of Flyboard as the wide lagoon around LUX* Maldives is ideal for our guests to enjoy this innovative sport that makes you fly like a bird or swim like a dolphin all in one' says Dominik Ruhl, the resort General Manager."
Rocket man with lots of splash down.