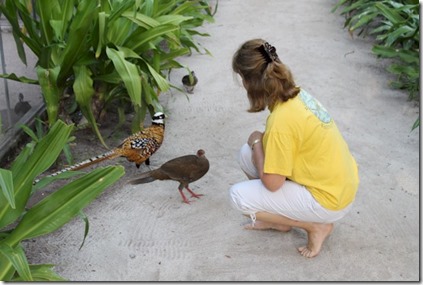 From flyboarding to free birding.
This post is also a contendor for "Most Nostalgic for My High School Years". First, "Freebird" was the Ipswich High School Class of 1979 "Class Song". Second, me and my buddies were big Monty Python fans (perhaps shades of my eventual UK life) and one of my favourite skits was "Albatross.
While I had parroted the "Albatross" sketch endlessly to pubescent tittering, I had never actually seen one. Until I visted Nika. Lori and was even more mesmerised by him, and his goofy wing-flapping walk, than I was I think. We dubbed him "Albert Ross" (my adolescent sense of humour has matured that much since high school).
Nika has its own bird sanctuary. But not in a cage nor in a segregated section of the island, but right in one of the main thoroughfares are the two main pathways converge in front of the dining area. All of the birds roam freely around the island, but they tend to congregate in this area where they are fed and they have some shelters.
A truly diverse bunch too. Bandito the peacock (see above), exotic dove, hens, parrots (see bottom) and ducks.
Maldives Menagerie!