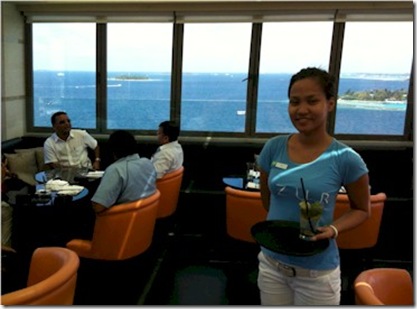 How was that New Years party last night? A bit too much to drink and ferreting around for the headache tablets. For those who do not prescribe to the 'hair of the dog' treatment, then perhaps a more gentle 'mocktail' is in order for rehydration. And there are no better Mocktails in the Maldives than the Traders Hotel in Male
While all of the resort islands have special licenses to serve alcohol to guests, Traders being smack in the middle of the major population centre has not been granted this privilege. So instead what Traders have done at their rooftop Azur bistro is crafted an imposing menu of 'Mocktails' (alcohol free cocktails) that provide as delectable and stimulating refreshment as anything a resort barman will serve up.
I had the 'Innocent Mojito' which is "muddled lime, brown sugar, green tea, mint, soda water". According to Ria (see photo below). The server (see picture above) who has been there since opening and actually served us on our first visit, told me the most popular seller is the 'Maldivian Sun'. Others on offer include Lil Rita, Kumiko Sparkle, Byzantine, Lychee and Lime, Chili Pineapple Frappe, Melontini, Cosmo.
Speaking of cocktails, Azur also serves the best shrimp cocktail I have ever had with monster prawns (oxymoron I guess).