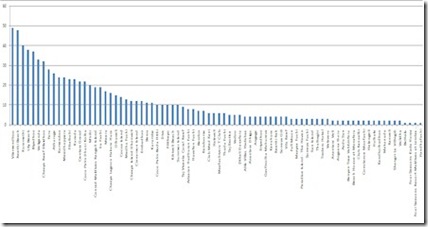 Having been an active TA Maldives Forum participant ("Maldives Complete") for a while now, I've noticed that one does see the same sort of things come around as regularly as sting rays at feeding time.  Discussions mosquitos, weather, snorkelling, children, snorkelling children, whale sharks. Many of these have been helpfully turned into FAQs by the Destination Experts (DEs). Obviously, one that comes around very regularly (about one out of every ten posts I discovered) is the question "Which resort?".  With over a hundred resorts to choose from and a few dozen more in the works, we can all appreciate the dilemma.
But for all of the extensive choice, I found it curious that some resorts seemed to dominate the Forum while other great ones were virtually non-existent.  I wondered whether it was just my perception so I did a little test.  I pulled the Maldives Forum posts for the past six months (August through January) and simply logged any resorts mentioned in the post title.  Not extremely scientific as an indicator, but easy, effective and objective. 
Vilamendhoo came out the most popular resort enquired about. But just only as they pipped Reethi Beach 49 mentions to 48 over the last 6 months. Rounding out the top 5 were Kuramathi (40 mentions), Lily Beach (38), and Biyadhoo (37). The lions share are shown above which you can click on to see in a clearer, larger version.
I was also intrigued by the quite prominent resorts that have never come up on the forum at least as an explicit post. Many were Italian oriented resorts more like to go to an Italian language site – Alimatha, Dhiggiri, Gangehi, Kihaadhuffaru, Madoogali.  Other were pretty exclusive so that the butlers probably book the travel – Banyan Tree Madivaru, Dhoni Island, Nika, The Rania Experience. There was clearly an bias towards the lower priced resorts in terms of mentions.  Admittedly, while there are typically fewer rooms/guest on the more expensive/exclusive islands, the modest difference in bed number was not enough to explain the quite extreme difference in post numbers.