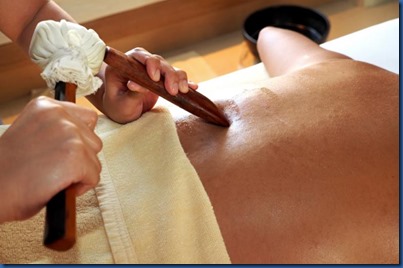 สวัสดีปีใหม่
Happy Thai New Year! And what a year it has been for Thai visitors to the Maldives. Thailand is the fastest growing country of origin for Maldives visitors with a 233% growth (!) making it the 5th highest Asian source (while being only the 10th largest Asian nation). Amari, Anantara, Centara and Dusit Thani are all Thai based properties with multiple properties in the Maldives.
For a truly Thai treat, Anantara and Amilla Fushi both offer the distinctively Thai Tok Sen Thai therapy…
Tok Sen Ancient Thai Therapy, which originates from Buddhist Monks, creates healing vibrations through rhythmic pressure on Thai acu-points applied with a special wooden tapper to relax stiff bodies, providing pain relief and deep release for the body and mind.
Lori had some of this work on her feet years ago when we were visiting Prague. It about sent her to the ceiling. If there was a Mohs hardness scale for massage treatments, it would look something like this (going from softest to hardest)…
Reiki
Aromatherapy
Relaxation
Swedish
Shiatsu
Sports Massage
Deep Tissue
Hot Stone
Tok Sen
So for those really tough knots from a particularly enthusiastic new years celebration, ask for some Tok Sen.