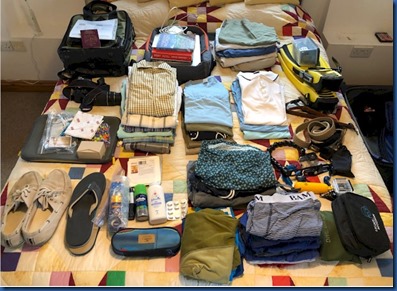 WTM was a great way to whet our appetite for our overdue return to the real Maldives this week. Tour #18 will take us to Biyadhoo, Amilla, Soneva Fushi, Ritz Carlton Maldives and Pullman Maamuta.
One new item is a face mask. Required for the duration of our BA flight. Having done a few long flights over the past year, you really want one that is comfortable (and for me, one that doesn't cause my glasses to steam up).
I take a computer (and charger and case) for my work taking notes, researching, logging photos, etc. as well as for keeping in touch with the office back home (which makes it easier to stay longer and means I have less urgent work piled up when I return). We can also use the computer to watch Netflix, and it is an easier tool to use for managing and editing our photos and videos.
As a get our bags ready, and sort out all of our COVID19 requirements, we pulled out our Packing List to make sure we weren't forgetting anything. I thought I'd share it here as a reference for people going to maybe for the first time or even for veterans to prompt them for items they might not have thought of:
Category

Item

Min

Recom

notes

CLOTHES

Swimsuit

1

2

2 allows one to dry for frequent use

Shorts

2

3

3 provides more choice and they're small

Shirts

5

5+

Can go thru two a day with the hot weather, but also nice to change into fresh one for dinner

Flip Flops

1

1

Underwear

5

5

Easy to wash with hand soap in the sink

Belt

1

2

A couple gives me a choice

Socks

1

2

For wearing on the plane though I guess you could wear flip flips…many do

OTHER

Phone+Charger

Lightweight backback or satchel for carrying items on excursions or to the beach, etc.

Sunglasses – Goes without saying, but for completeness

US Dollars Cash – A good rule of thumb is $50/day. Probably much more than you need, but provides safety for contingencies and you can always bring it home.

Beach Wallet – A simple, water-proof, pocket sized wallet for room key and a few dollars that might be needed for serendipity tipping

Passport – included for completeness

DIVING

Rash guard – to protect against sun snorkeling, can use tshirt

Fins/MaskSnorkel – most resorts lend these for free and they do take up lots of space packing, but it is handy having your own that you are comfortable with.

Diving Items (eg. log book, certification cards)

Underwater Camera – you can rent these, but we have a GoPro which works great with underwater housing (also, great to have a red filter for diving)

OPTIONAL

Camera – many people are happy with the hig-res camera phones, but I bring an SLR as well

Sun Lotion – available at the resort boutiques but the price is high and selection limited

Reading – resorts typically have a library, but always great to bring what you want to read if that's how you pass the time

Fish ID Card/Book – You can find most fish information online now, but we find our fish ID cards and a fish book (our favourite is Rudie H. Kuiter's "Fishes of the Maldives") to be much easier to use.

Headphones – Noise reduction for better listening on the long flight and so I can listen to stuff without disturbing Lori if she is napping
My Maldives Complete partner in all adventure, Lori (an accomplished blogger in her own right and regular contributor and editor) has agreed to go through her suitcase and share her tips as well (photo at bottom):
Category

Item

Min

Recom

notes

CLOTHES

Swimsuit

2

4

2 full-coverage 1-piece swimsuits and 2 rash guards for sport (diving/snorkelling). We snorkel and/or dive every day. Two pretty ones/ bikinis for lounging. (I actually pack several more swimsuits.) You will need cover-ups for breakfast and lunch dining.

Shorts

2

2

It's personal preference here, but I prefer floaty dresses or floaty trousers with natural fibre tops, because it's hot. (I highly recommend natural fibres, if possible). Shorts can be useful for transferring on sea planes, though, because you have to climb in and out and go up and down small stairs, sometimes to small floating docks. The breeze could trip you up if you have a long floaty dress on. I prefer longer shorts so my legs don't stick to the seat (no air conditioning) and I take basic ones (jean/white) with multiple tops. Here, I've packed 1 pair white shorts.

Shirts

3

3+

These go with your shorts, plus extra in case you need a fresh one. Here, I have packed 3 tops to go with my one pair of white shorts.

Flip Flops

1

1

I take one pair of nice ones to go with shorts and swimwear.

Underwear

?

?

If you are happy to wash your smalls, or don't mind sending them to be laundered, then you can just pack a few. But, they are so small and I don't like to be bothered whilst on the holiday of a lifetime, so I pack one for every day, plus extra. Here, I have 4 bras with matching knickers, plus extra knickers (not pictured).

Belt

0

0

It's hot, so I avoid garments that are tight at the waist.

Socks

1

2

I wear sports shoes on the plane with socks, if I plan to work out in the gym. Sometimes I do; this time I won't. Which brings me to shoes:

Shoes

2(3)

2(3)

Gym shoes (if you are a gym bunny and just can't go a week or two without exerting yourself on the treadmill); flip flops; 1 pair nice shoes, in case you need them for fine dining indoors. Many (probably most) resorts offer all dining on sandy floors, so check your resort to see if you need any shoes at all. Some resorts are "No shoes; no news" and take your shoes from you when you arrive.

OTHER

Hair Care – Salt water is a natural cleanser and will remove old layers of conditioner/product from your hair. This is ok if you are not an avid swimmer, but if you are in the ocean every day, you will want to bring along some good conditioner/barrier products if you are concerned about maintaining the colour or texture of your hair. I have found that even the best resorts often don't have conditioner that is adequate for my long, thick hair. You may wish to bring a hat to protect your hair and face from the sun. Don't forget any styling brushes and clips/bands you may need.

Sun cream – goes without saying, but for completeness…

Jewellery – as you wish. I used to just wear all my jewellery on the plane (simple and goes with all my clothes) but this time, I've packed extra pieces to go with some of my nice dresses, because we are going to some really special resorts. All resorts have safes in the rooms.

Reading – resorts typically have a library, but always great to bring what you want to read if that's how you pass the time

Evening wear – I like to dress a bit nicer for dinner, so I wear floaty dresses (one pictured)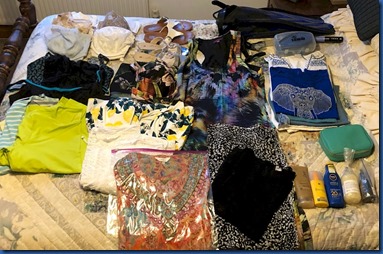 (For future planning reference, I've now added a tag "Trip Planning" with all my posts concerning getting ready for the big trip.)