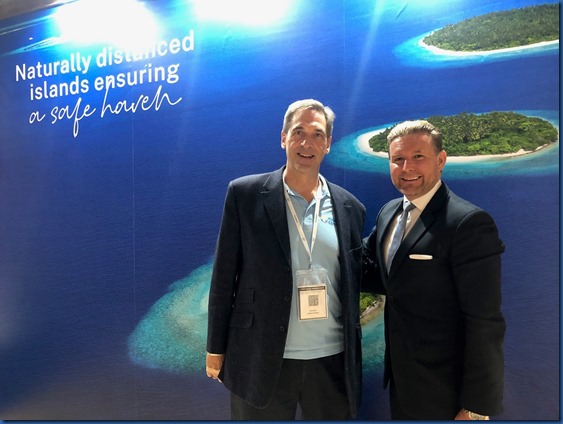 Another milestone in the return to normality is the resumption of the World Travel Market this week at London's Exel Centre. A traditional opportunity for me to escape the increasing Blighty chill and immerse myself in all things Maldivian for a day.
Despite the broad-based enthusiasm for this big step of some face-to-face time with the opportunity for serendipity of connections and information sharing, the WTM was a more muted affair than previous years. The crowds were much smaller. This made the queues for coffee a lot shorter, but also made the event less advantageous for the participants. Next to the Indian Ocean (and I didn't see Seychelles or Mauritius there), was the "Africa" section which had only a half dozen sub-Saharan countries.
The "Maldives" hosted by the Ministry of Tourism and its Maldives Marketing and Public Relations Corporation (MMPRC) arm made a huge effort to make a dominant presence. In addition to its usual pole position stand location at the entry to the "Indian Ocean and Asia" hall, it had filled the Exel centre with floor markers and video billboards (see photos below). With the lower attendance, I suspect that the WTM was selling floor space more cheaply which the Maldives took advantage of by doubling its stand footprint and removing the cost of its traditional two-level stand build.
I filled my day meeting long-standing friends, associates and supporters (like Pullman, Emerald and Ritz Carlton's Scott Le Roi in the photo with me above), as well as made new acquaintances and introduced more industry folk to the website. I got a chance to learn about some of the newest resorts (eg. Cora Cora, Rita Carlton) as well as a some other players I hadn't met previously (eg. Hummingbird Travel).
As a bonus, for the first time ever at WTM I have included a video tour of the stand.