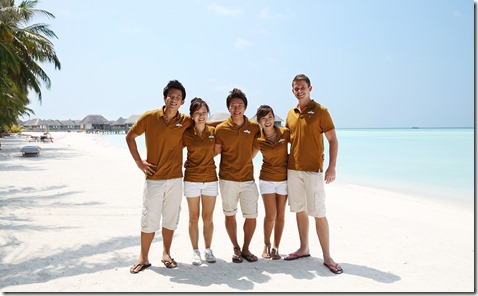 In my top ten FAQs is 'what best resort for singles?' These visitors are not looking for some sort of groovy 'hook up' resort. Rather, they simply just don't want to feel all self-conscious being a singleton in the land of dewy-eyed honeymooners and other romantic holidayers. More catering for this segment was listed in one of my first "Haven't Seen Yet" pieces. This segment is significant and growing. People get married later, relationships last fewer years, and older people lose their partners through passing. These guests just would like to (a) not be jonny-no-mates, and (b) not pay big premiums for being alone.
As it happens, while touring Club Med Finolhu Villas, we stopped a probably the best resort I have come across is Club Med Kani. Despite their special offerings for families and honeymooners, they also cater to singles specifically. They just cater to everyone! Here are some of the things they have put in place…
Diversity – There is so much diversity in Kani's clientele, no one would feel out of place. There are couples on honeymoon. There are families. There are groups of friends. There are groups of families. And yes, there are singles.
Staff – Club Med is renowned for its hyper-friendly ethos and ambience. The staff all bubble over with amiability. The resort has a practice where all staff eat with the guests (only if the guests would like the company of course) which of course would suit a single person superbly. And as it happens, many of the staff a single themselves.
Atmosphere – The Club Med Kani atmosphere is simply very friendly, social and inclusive as I described in my Best of the Maldives post "Making Friends".
Numbers – With nearly 500 rooms, Kani is one of the biggest resorts in the Maldives. That means there are so many people that even a small percentage of any group becomes a reasonable number. Yes, relatively few singles visit the Maldives. But at Kani you mathematically have a better chance of meeting more of them.
Catering – The resort actually caters to single guests. It offers a reasonable single supplement rate on its villas. When there is enough singles in residence, it organises special activities just for them such as cocktail parties and special singles-only snorkelling outings.
Literally, come 'one' and all…