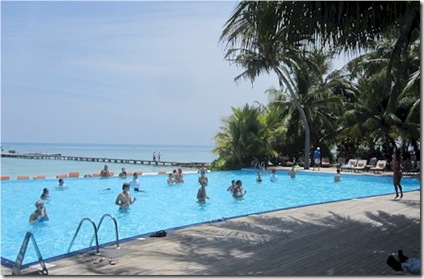 "Lest old acquaintances be forgot…" Happy New Year!
If making friends (or at least acquaintances) enhances your visit, then the place to go is Club Med Kani. Their whole ethos is invests a lot in running group activities which makes for highly conducive friend-making. Like the 'pool disco' in the photo above where there were a couple dozen folks of all ages bop to the lively dance leader (standing at pool's edge on far right).
It's not just the activities, but it is the guests themselves. Club Med's atmosphere is so distinctly and characteristically lively and active, that their resorts around the world (not just the Maldives) attract a certain type of guest who does relish this energy and interaction. I often suggest Club Med Kani for two groups – families with kids (because they are most likely to meet and interact with others there age here) and singles. No place in the Maldives really caters for 'singles', and you're not likely to meet another 'single' friend at Club Med Kani (not that many singles come to the Maldives), but at least you won't be lonely at Club Med and you will make friends to share you holiday with.
It's not just the guests, but the staff themselves are especially amiable. At many resorts, the staff will eat in their own quarters or off at some segregated dining table in the restaurant. But at Club Med Kani all the staff eat with the guests (as long as they are well and not intruding). It is a really nice personal touch.
Some people don't want to meet with nor interact with anyone on their holiday. The Maldives can offer that remote isolation. It is one of the appeals to the celebrity set. But for the more social in nature, the jovial, relaxed atmosphere, and the shared experience of savouring paradise often brings people together on an island. Sharing a remarkable sight in the water or telling stories of discoveries during the day at the bar.
Privacy and time together alone is great, but sometimes you do welcome just a bit of human interaction. I gave my wife a trip on the Orient Express for an anniversary present years ago. As it happens you can either go London to Venice (and fly back) or the other direction. So many people like the idea of setting off from Waterloo Station that the option to go Venice-London (and fly to Venice) was about 30% cheaper. We just wanted the experience so it seemed to make sense to save the money. We fly to Venice a few days a ahead of time and then boarded the iconic steam train there. The things is that in Venice, most of what you do is walk around, sightsee, sit in cafes and restaurants. As a result, Lori and I were pretty well caught up on conversation. And after all that, we were boarding a vehicle for 32 straight hours in an enclosed space together. We loved the experience, but we both admit, we really looked forward to meal times. It was then that, in addition to the charm of dressing up in black tie, you were sat at a table with another couple of passengers. We really enjoyed (and even looked forward) to meeting some new people, sharing thoughts on the sumptuous experience, and interjecting a bit of variety into our conversation.
"And we'll take a cup o' kindness yet, for auld lang syne." And a Happy Hogmany as well…