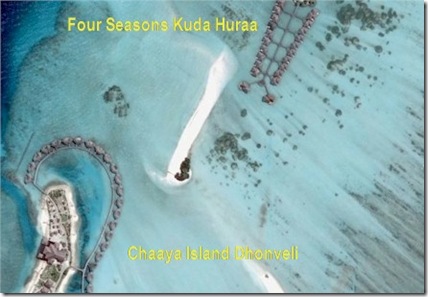 The other title for this post could be 'Surf Buddies'.
Some Maldives visitors like the utter remoteness of many of the islands. Feeling like you are on a solitary deserted island in the middle of nowhere. While I enjoy that desolate sensation, I also enjoy the little 'communities' of the archipelago. Clusters of land bridged by sand spits and shallow lagoons. It was one of the first stories Andy Lees intrigued me with when describing the Maldives. He told how when walking around the island he spotted another tiny island offshore. Not too far away and the water seem quite shallow. He started walking towards it and before long he was on the other island having waded over from his resort.
My twist today is taken from the community of surfing resorts in the spirit of this week's posts. I've highlighted close clusters of islands before, but in this case the islands aren't especially close, but their water villa complexes are – Four Seasons Kuda Huraa and Chaaya Island Dhonveli. As the Bing map above highlights, the two water villas come to within a couple of hundred yards of each other. On top of that, they have a handy little sand spit to provide a bit of a sand bridge for any particularly neighbourly strolls. Mind you, resorts are quite keen that you alert them if you are going to visit their island so spontaneity needs to be kept to a minimum.
Their proximity is not that surprising. Both are located on a reef plateau which provides both with rich surfing in the vicinity.