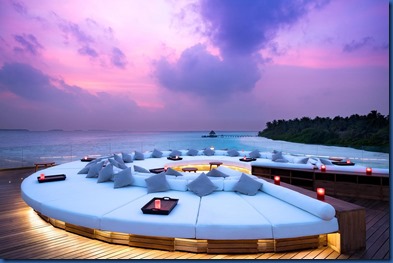 Spy the friendly skies.
We have been spending many an evening recently lying flat on our backs star-gazing especially watching the always dramatic mid-August Perseids meteor shower (the biggest meteor shower of the year). It is such a special occasion that we blow up our air mattress and put it out on the lawn with pillows and a duvet so we will be comfy in the cool English night. We recently returned from a camping stay-cation with friends on the south coast of the UK (the closest we could come to a seaside surrogate to our annual Maldives visit) and introduced them to the super supine approach to contemplating the celestial firmament.
In the spirit of "everything is better in the Maldives", Anantara Kihavah has installed the ultimate star gazing loungers atop their suitably named "Sky" lounge (also suitable for sunsets and ocean vistas). If only I could find someone to serve me tropical cocktails in my backyard.