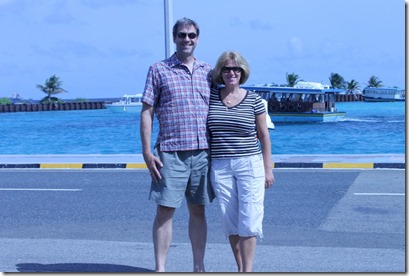 Tour #5 begins. I've set off on my 5th tour, our 13th trip to the Maldives overall. After this tour, we will have visited 55 resorts in total. The focus of this journey across paradise is the Gaafu Alifu (first time) as well as Baa atoll (we have toured here before but there are a number of new resorts as well as a couple we missed last time).
Gaafu Alifu, it turns out, is the world's largest atoll. It has really come to life in recent years with a number of premium resort developments. It is known to have dive sites that rival the famous Ari atoll. It is also primarily accesses via a domestic flight (instead of a seaplane or speedboat). Some people are put off by seaplanes – they are very noisy and they are smaller which can make people ancy about flying more uneasy. Unfortunately, seeing the Maldives from above, with this mottled tapestry of blues and greens is one of the great thrills of any visit. If a more conventional flying machine makes this part of one's journey a bit more enjoyable, then a domestic flight with a more 'conventional' aircraft might be just the thing. It is a full 48 seater turbo-prop. It flies a bit higher altitude than a seaplane, but you still a treated to a spectacular view of the Maldives seascape.
When I arrived, I spent my first day in Male catching up with a number of Maldivians who have been very helpful supporters of my work. I pitched up at the best "remote office" in the world at Traders Hotel with penthouse suite view, delicious food and drink, and a spa to freshen up before my meetings. I've yet to try the rooftop pool, though definitely on the Maldives bucket list.
I met with my longest standing industry supporter, Aminath Hudha who is working for a resort broker. She reports that business is strong across all areas (making her life very busy). I also met with people at the Ministry of Tourism who are enthusiastic about the site (so much so that they stayed quite late for our meeting on a Ramadan day when government offices shut at 2:00 pm).
Ramadan greetings, Maldives.