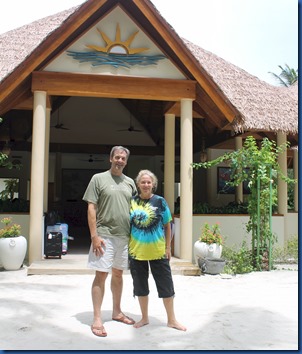 When you have a classic production, people just can't get enough of it even with repeat after repeat. Like "Top Gun" whose long anticipated sequel has just had its trailer released last week, Reethi Beach is a long time Maldives resort classic with a cult following that goes back decades itself. So it is with eager anticipation that its fans (and others) awaited the launch of its successor property Reethi Faru a year ago.
Like all the best sequels, Faru stays true to the elements, formula and style which brought it success. Fine house reef (with even the occasional manta known to swim by). An all-natural aesthetic with pervasive sand floors and unkempt jungle interior. A laid-back and somewhat social vibe. And of course, affordable pricing.
And the sequels, building on the bankability of a proven formula, are always blessed with a bigger budget, bigger stage and more ambitious script. Reethi Faru is also taking the original concept to a new proportion. This expanded size does invariably alter the experience, making direct comparisons between the two more difficult. Faru is not quite as intimate as Reethi Beach, which is less than half its size. Faru still maintains the no-shoes, pervasive soft sand experience but with longer paths meandering through the tropical undergrowth. In fact, I think Faru is about the largest island we've been to without buggies or even bikes used to move people around. So bigger yes, but more bustling, no.
It's hard for me to make a direct comparison to Reethi Beach as we visited it in one of our first tours back in 2010. Since that visit, Reethi Beach had a bit of refurb (a digital re-mastering if you will). Like Reethi Beach, Faru's infrastructure and design is quite straightforward stuff. Not lots of fancy flourishes, but simple and smart looking. The rooms are quite handsome with inviting paintings of local scenes and a fresh, comfortable décor.
One cosmetic feature that does stand out is its flora. Like Reethi Beach, the island is jammed packed with trees and brush. And the resort has nurtured that lush landscape even further. They have nearly an acre large flower nursery growing all varieties of colourful blossoms to be spread around the island. And through the centre they have constructed a 100 metre long arbour. When the passionfruit plants enveloping it mature, it will be quite a romantic tunnel of love.
The avid fans of Reethi Beach who cherish its aboriginal terrain, an inviting house reef, a chilled island vibe and an affordable price tag, will applaud the release of Reeth Faru.