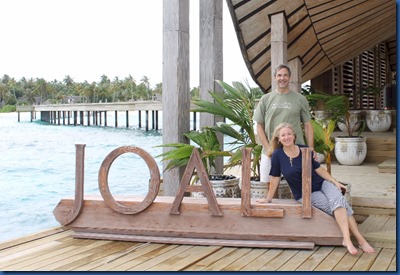 Joali is state of the art. Quite literally, as the first "art resort" in the Maldives. I will have to delve into this inspired concept and the expansive collection that manifests it in a later post(s). But the resort is not just about the finer things in life, but fine art itself. Different artists from around the world were commissioned to create a collection of works inspired by the islands themselves. The notion reminded me of the legendary Ice Hotel who annually invites a platoon of ice sculptors to carve ice blocks into stunning pieces of art.
A major source of Joali inspiration is sitting down and enjoying paradise. Much of the art is meant to be "experiential art" that is engaged with, the most common engagement is just sitting and enjoying paradise. The name "Joali" is from "Joli" the name for Maldivian swing chairs with "a" inserted to represent their Turkish Parent (Alibey). "When people are sitting in their joli, they are enjoying life". Hailing from the "Chairboys" town of High Wycombe ourselves, we were especially fond of this motif.
I've already posted on Joali's exquisite Manta loungers. The arrival jetty is masterfully inspired by Mantas. Less mimicking their outline and more capturing the graceful, sinuous flow of their languid swimming. Appropriately enough, a group of dozens of mantas were spotted passing by the reef just a week ago.
But museum quality pieces aren't the only state-of-the-art that Joali boasts. The villa environmental controls are something you would expect in Bill Gates' house. Every electrical item from lights to curtains to home entertainment are all easily controlled from the handy bed-side iPad. Furthermore, all the lights are also controlled by a user-friendly pad of room settings like "Enter" (turn all lights on), and "Exit" (turn all light off) or "Ambient" (just turn on the low, indirect lighting). And the curtain controls don't just open and shut them, but allow you to specific precisely how far you want them opened or closed.
The resort's distinctions and touches of elegance made our visit a treasure trove as we discovered as many Best of the Maldives pieces as we had for virtually all the other resorts visited so far put together.
Joali is a new masterpiece in the azure gallery of beauty that is the Maldives.