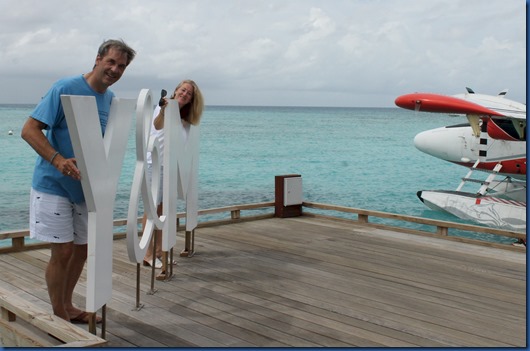 Super-deluxe for the rest of us. Have you ever yearned for the stylishly exotic Swiss Family Robinson chic of Soneva/Gili/Six Senses, but couldn't swing the budget? Or fantasized about dining under the waves in an undersea restaurant like Conrad/Kihavah/Hurawalhi, but shrunk away due to the price? How about enjoying the personalized service of a la carte dining, but worried about bill shock at the end of the stay? Or having your own personal butler to help ensure every detail of your dream trip is attended to? You & Me resort provides so many features of the super-premium experience, but at a more conventional 5-star price (rooms starting under $1000/night).
The a la carte approach is good for the environment as food wastage is dramatically reduced, but it is actually good for the guest as well. We always find ourselves simply over-eating at the ubiquitous buffets. You just can't help yourself making one last trip for "just a taste" of that inviting dish you saw, or "just a sliver" of the dessert you couldn't fit on your plate. We found ourselves enjoying healthy meals without the post-prandial bloating and regret when we avail ourselves at the troughs of buffets.
Their H2O underwater restaurant was one of the most memorable activities of our two decades of visiting the Maldives. The facility is a sterling example of these special portals to the sub-aquatic wonderland of the Maldives with broad, open glass including an entirely glass semi-circle section at the far end. The meal is a luxurious gourmet meal featuring a range of seafood delights. Yes, apropos to the venue, but we did feel a little self-conscious eating in front of all these aquatic creatures. But the star of the night was the special appearance by the most charismatic visitor of all, a resident octopus (see below). He entertained us with chameleon colours and dazzling shape-shifting. He scooted from coral cropping to coral cropping enveloping it and transforming to match it. The surrounding fish seemed to take as much interest in his activity as we diners did. We thought that maybe he was trying to suck out fish babies hiding in the coral and the fish were trying to ward him off. It turns out that he was actually blowing into the coral to flush out stuff hiding and settled there, and the other fish were trying to steal some of the scattered pickings.
You & Me has been designed with the same emphasis on flair as their sister resort, Cocoon. For example, H20 was designed by the same Italian designer who crafted much of Cocoon's distinctive look, Daniele Lago. For people looking for opulent luxury at an affordable price, You & Me offers the aesthetic brio and many amenities of the finest resorts at a more manageable price.