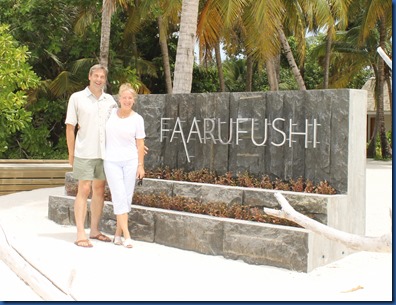 Pristine Maldives. The unspoilt natural beauty combined with a fresh new property of contemporary flair define the Faarufushi resort.
When we first started coming to the Maldives over 20 years ago, there was only a single property in the Raa atoll. None of the dive books had hardly any dive sites listed for it. It remained for years an untouched corner of this paradise destination. In recent years, a dozen new resorts have launched opening up this remote area. Now in an era of sustainability and environmental awareness, their development and operation aim to have much less impact on the surroundings than their less woke predecessors in the other atolls. And in this relatively undiscovered atoll, the most far-flung is Faarufushi. Situated the northmost of all and furthest from all the other neighbours.
During our visit, we were fortunate enough to be able to explore some of the dive sites that heretofore have only been seen by safari boats. A number of the dive sites in the area haven't even been dived yet. The whole experience felt quite privileged. We were visiting the top dive sites in the area. Sites with a noticeable amount of more colourful coral and vibrant marine life (though apparently fewer of crowd-pleasing sharks). A yet there were no other divers on the site. The top sites in the other atolls are usually crawling with divers from surrounding resorts. In fact, there weren't even any other dive boats on the water for as far as the eye could see. A pristine sub-aquatic wonderland all to ourselves.
For the non-divers, the house reef is a delight. It has been hit by bleaching over the years, but it seemed more alive than many reefs we have snorkelled in recent years. Just enough coral peeking back as well as squadrons of colourful fish. It is a bit of a swim from shore (100m), but the dive centre jetty drops you conveniently right at the drop off.
The pristine aesthetic wasn't limited to the water. The resort itself was paragon of freshness and care. Carefully preserved original, dense palm canopies draped over the meticulously manicured flowers and eye-pleasing gardening across the grounds.
The food itself is also clean and fresh. The Executive Sous Chef Bir Yadav describes the "lightness in the menu" which the kitchen is striving for which means minimizing starches and ingredients that can bloat you. And the presentation boasts some of the most distinguished flourishes in the Maldives (stay tuned for details).