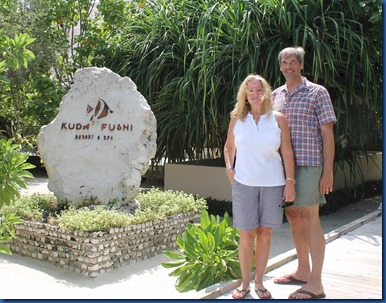 Don't need all the fussy bells and whistles, but do want top notch quality throughout? Check out Kudafushi. It describes itself as an "entry level 5 star". And it is positioned precisely where so many visitors want to be. They want to splash out for the luxury of seeing this paradise, they want to be assured of a solid standard of quality for the basic creature comforts, but on top of that they don't really want to pay extra for lots of bonus amenities and luxuries that don't exactly float their boat.
It's an intriguing sub-segment, as I have seen a number of quite fine properties in the Maldives position themselves as "4+ stars". So, what would be the difference between them and a starter for 5? I think the key thing is consistency. A 4+ might just have some quite exceptional features, but it also might have a number of aspects which really don't make the 5-star grade. These resorts position themselves a "4+" so that guests are pleasantly surprised by the 5-star features without being slated on TripAdvisor for some of the aspects not quite at 5-star standard.
The property and its proposition reminded me of the UK High Street icon Marks and Spencers. "Marks and Sparks" are renowned for having simply the best quality, at a reasonable price, food and clothing. Smart looking basics like your first business suit, or your underwear. Curiously, while the clothing line is dependably mainstream, the food court section is a cut above most grocery competitors. Similarly, Kudafushi's fare was quite distinctive. A destination leading pasta station, jumbo grilled prawns and homemade ice cream.
One area that was especially distinctive was the house reef. It had that relatively uncommon combination of both great lagoon snorkelling (lots of big coral blocks in shallows for easy snorkelling for beginners) and a rich, steep house-reef drop off. We encountered a lovely turtle in the shallows that we swam with for a while (he seemed totally nonplussed by our presence) and a manta had visited the house reef just a few days prior.
Kudafushi ticks every box for all the fundamentals of a great property. Lori (whose long and unruly hair is particularly challenged in the humid atmosphere and salty water of the Maldives) noted that even the shampoo in the villa was exceptionally good.  Kudafushi haven't splashed out on lots of flashy design or opulent features, but every aspect is quite simply first rate. Smart and high standard throughout from the minute you arrive to the minute you leave.