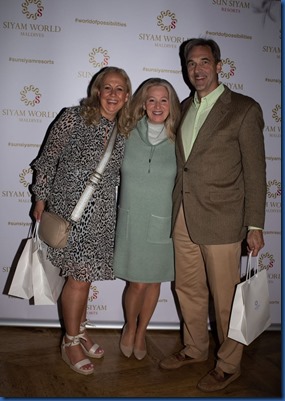 (photo of Siyam PR Angie Sloan with Lori and myself courtesy of Dafydd Jones)
Our virtual Maldives excursion carried on with a transfer cross-town to the Century Club where Siyam World celebrated its UK launch. Deepak Booneady, Commercial Vice President Siyam Resorts, shared updates of all the resorts in the Siyam collection, ie. Olhuveli, Vilu Reef, Iruveli.
But the star of the evening was the newly inaugurated Siyam World. He shared the fascinating odyssey of the founder Ahmed Siyam Mohamed who started as a butler at one of the first resorts back in the 80s, parlayed his understanding of the business and his guests' interests into a travel agency which then grew into being a resort company itself. Booneady described Siyam's ethos reflecting this heritage with great people making great experiences for guests.
The expansive island affords an expansive vison of amenities an activities while still preserving plenty of wide open space and tranquil areas. The property boasts quite a number of firsts in the Maldives to stay tuned for "Best of the Maldives" additions.