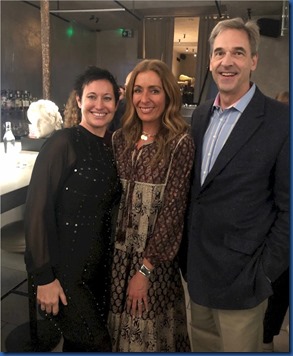 One of my many motivations for doing Maldives Complete is to be transported away from cold and less sunny England immersing myself in all things Maldivian for a several hours a week. While my escapism is usually digital, this week I was treated to some real bits of the Maldives live here in London. Amilla hosted an industry event to update its UK partners and friends on the latest and greatest at the resort.
Amilla announced its acceptance into the Small Luxury Hotels of the World collection among other enhancements and new features. It wasn't just press release and presentation, but an actual taste of Amilla hosted at Michelin-trained Kirk Haworth's "Plates" restaurant whose ethos of sustainable, healthy and yet decadently sumptuous culinary creations fit right into the Amilla vibe. So much so that Haworth was hosted by Amilla earlier in the year and is scheduled for a return residence in the coming months. We were treated to such Maldives-worthy delicacies as "carrot & yuzu bellini crumpet, smoked carrot, seaweed caviar, champagne jelly" and "BBQ potato with sea lettuce, aioli, pickled shallots, nori powder" and "organic cocao and lion's mane sponge, whipped coconut, hibiscus sherbert." And all of the dishes were accompanied by rainbow (white, red, rose and orange) of locally produced organic wines.
Other featured Amilla residencies joining the festivities included style guru Kat Farmer (see photo) who recently hoted a fashion show with a Maldivian designer there. And the parting gift was an herbal bath tea from Amilla's own garden. But the quintessential touch of the Maldives itself were the leadership team which personifies appreciating, investing in and sharing the Maldives – Jason and Victoria Kruse.