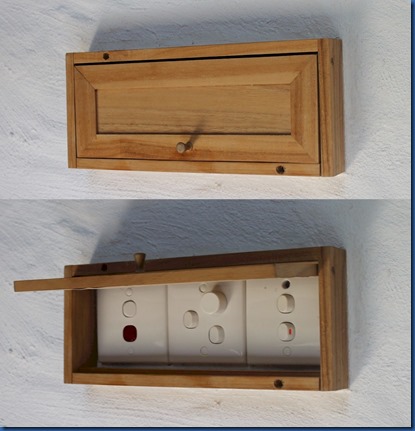 "God is in the details." – Anonyous
Another wall cover, though this one is at the smaller end of the size spectrum. One of the things I enjoy celebrating in the "Best of the Maldives" series is the array of little touches that make a property distinctive. A great example is Soneva Fushi's electrics cover.
When you renovate or build a house, you quickly figure out that the biggest costs can be in the finishes. Depending on your taste for elegance and quality, simple fixtures like knobs, trim, fixtures and even light switches can get very pricey. They are like mini pieces of art with which you interact every day. And when you need bunches of them across the building, the costs really add up. I loved Soneva's approach which was not only in keeping with its all natural design, but also put their money into local carpentry rather than importing some extravagant Swedish designs.