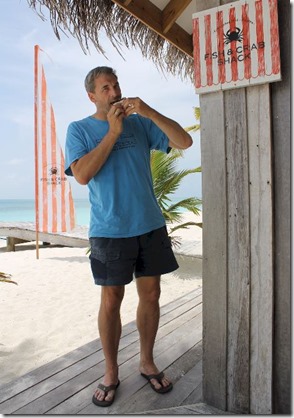 The *other* luxury seafood – Crab. Lobster is the stereotypical luxury seafood (and one I explore extensively in the Maldives). But if there is one alternative that gives lobster a bit of contention for that title, it's Crab. Proper crab…like Alaskan King Crab or Rock Crab. Just the other day, I was musing why – with all of its opulent ingredients and gourmet eateries – one didn't see more of the luxury King Crab in the Maldives which rivals Maine Lobster for sweetness and tenderness.
Finally, a resort has given crab the luxury treatment and spotlight it deserves in the Maldives – Finolhu. Specifically, the Crab and Fish Shack, but actually they serve an assortment of gourmet crab dishes at all of its restaurants. Crab Gazpacho (warrants its own post) at the Shack. Crab Curry at the BaaHaa Grill – a first in the Maldives, but astonished that it is. King Crab Fried Rice their Asian Kanusan restaurant.
But the star attraction is the Shack's Soft Shelled Crab Taco (photo below). This dish is what I refer to as the "Babe Ruth Called Shot" (remember – resorts often make a lot of grandiose claims and after 20 years going to the Maldives, I've seen a lot). From nearly the moment we arrived, everyone around the resorts said that we had to try the Soft Shelled Crab Taco. Now, we used to live in Northern Virginia smoothly polished stone's throw away from the Chesapeake Bay where soft-shelled crab is a regional specialty. Being a seafood and particularly a shellfish lover, I've tried it on many occasions, but it never really did it for me. So I was a bit sceptical about these recommendations. But hey, I thought I should try it. Wow Simply divine. This tasty dish will haunt me for a long time. Part of the problem with soft shelled crab is that you are eating the whole body – legs, head, etc. It just seems a bit weird. But encasing it in a soft taco shell masks this aspect to seem just like some tasty seafood meat.
Along with the truffle fries (truffle oil not too overbearing and the fries a perfect crispy outside and mushy soft on the inside) and the crab gazpacho (subject of another post), I think this might just be the best lunch I have ever had in the Maldives (Mind you, it is hard for a chef to stand out at lunch. The food is naturally lighter and more limited. There is less opportunity for grand recipes as no one wants to eat Lobster Thermidor or Chateau Briand in the middle of the day).
Finolhu's Crab and Fish Shack takes you even further away from it all. You come to the Maldives resorts to escape civilisation…and then you can go to the Crab Shack to escape the resort which is situated at the end of a distinctive kilometre long sand spit jutting out into the ocean. Finolhu doesn't just have a great crab menu, but it has an equally stunning crab venue.