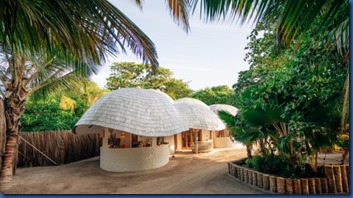 One person's trash is another's person's treasure, but Soneva Fushi's "Maker Place" works to turn all their trash into everyone's treasure:
"Soneva Fushi, the Maldives' original barefoot luxury resort, has revealed a ground-breaking new addition to its portfolio of sustainable innovations. Makers' Place is a fully carbon-neutral island studio that recycles waste plastic and aluminum into works of art, as well as practical objects and building materials. The Makers' Place studio was built in collaboration with British artist Alexander James Hamilton, an advocate for sustainability and founder of the Distil Ennui Studio™, whose practice spans sculpture, painting, photography, film, lighting and installation."
One of the advantages of their rustic chic aesthetic is that adapting bits and bobs of all types works in easily.