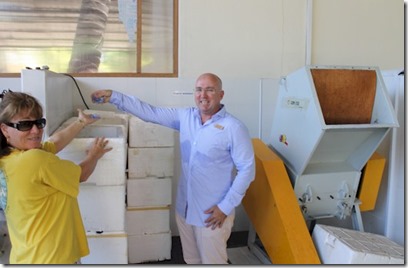 Lori and Jason Kruse, Kurumba GM, with ground glass
With my emphasis on discovery it took some big stuff to lure back to Kurumba for the third time when there were so many unseen resorts to hit. But I must say that the detour was worth it with quite possibly the most inspiring "Best of the Maldives" discovery of the entire trip.
To date, most resort eco-initiatives have fallen into the following categories…
But as anyone who has ridden by Thilafushi will attest, the sheer volume of waste and rubbish is a massive challenge for the country. Most resorts are looking at packaging and waste reduction initiatives. But Kurumba is leading the way with a strikingly comprehensive recycling programme.
And investments they are. First, Kurumba has shelled out some serious capital to get some advanced machinery to process the waste. But more so than that, Kurumba is experimenting with these gadgets and tuning them and the processes around them to get the most out of them.
Bottles – Ground down and used in cement
Coconut Husks – Ground down into "choir" which is used to make ropes and a range of building materials. Also, using coconut husks to fuel their BBQs. They found out that the husks burn hotter than the charcoal used previously so they have had to adjust their cooking.
Green Waste – Shedder composter which mixes heat+air+bacteria for accelerated decomposition. Material basically broken down in 3 hours and then let sit for 40 days (it was supposed to be 10 days, but experimentation has shown 40 to be ideal for the best soil creation). Going through 1700 kgs of kitchen waste per day.
Styrofoam – Shedder to make filler for things like beanbags. Not working properly, but still experimenting to get it right.
Kurumba is sharing its expertise with other resorts now and hopes to pioneer a drive to zero waste in the Maldives. If successful, Thilafushi could itself be relegated to the dustbin of history.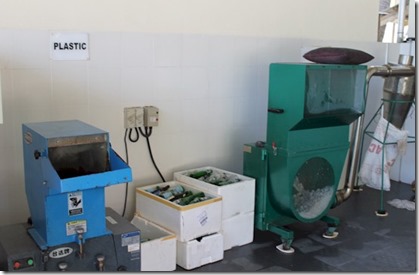 Plastic and Styrofoam recycling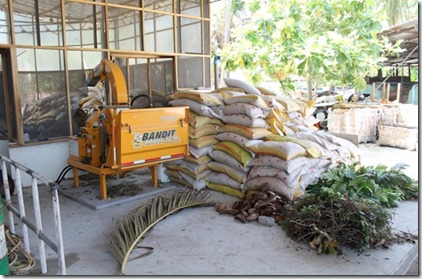 Green waste mulching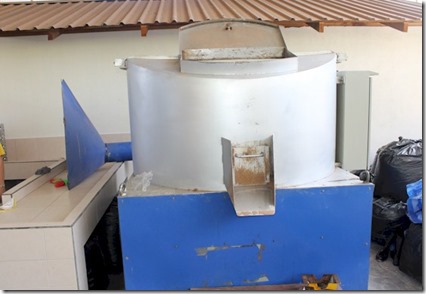 Green waste accelerated composting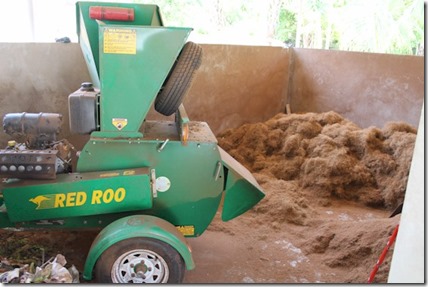 Shredded coconut husks