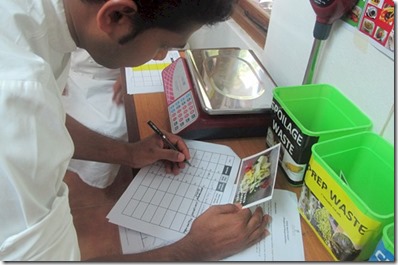 Two global events this week nourish the appreciation of food itself especially in the Maldives. I'm not talking about savouring fine gourmet delectables, but simply appreciating the very basics we consume every day. World Environment Day this past weekend promotes a healthy planet which sustains our food supply. Too many food industry practices – from clear cutting rain forests for grazing land to indiscriminate marine life casualties of fishing practices like drift nets – spoil the very Earth that sustains us. And coincidentally, the month of Ramadan starts this week. Where cutting back on food all day (building one's appreciation for it) it central to the celebration.
One of the biggest environmental issues with food is waste. It affects both the production (making more than we need) and the consumption (disposing of the waste we don't use). And the resort who is actively addressing this big issue in sustainable food consumption is Soneva Fushi. Soneva recently conducted a comprehensive food audit to underpin changes in their operations to minimise food waste…
"Soneva Fushi, the multi award-winning luxury resort in the Maldives, has recently joined hands with LightBlue Environmental Consulting to implement a food waste audit, to understand and address the problem of food wastage that affects the entire hospitality industry and to reinforce its position as global leader in sustainability. The United Nations recently highlighted that food wastage was one of their most urgent priorities and countries all over the world are beginning to realise the true negative impact of food waste. The United States has announced plans to cut its food wastage by 50 percent by 2030; and while the European Union has set itself the same target, it hopes to do it by 2020…A detailed Food Waste Monitoring System was implemented by LightBlue across the Soneva Fushi operations for seven days, and included hands-on training as well as raising awareness among kitchen employees, stewards and service staff. Employees sorted, weighed, defined and recorded waste for every shift (breakfast, lunch and dinner) to establish a food waste baseline (grams of food waste per cover) and understand where they could focus their efforts on. The detailed audit helped answer crucial questions related to food waste: How much (in kilogrammes), where (in four categories: spoilage, preparation, buffet and customer plate waste), when, why, and what food is discarded. The assessment also reviewed how much it cost, and how much could be saved through the implementation of strategic recommendations along the food chain, mainly during purchasing, receiving, storage, prep, communication, buffet, and service…Gordon Jackson, the Waste to Wealth Manager at Soneva Fushi. 'There was quite a dramatic reduction to the organic material being sent to out composting site. So we are down by about 50 percent already,' Gordon said."
Waste not, want not.