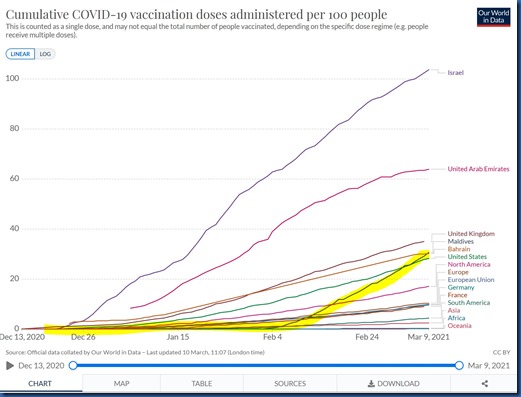 The Maldives is en route to another world leading mark – the country getting the highest proportion of its population vaccinated the fastest. Already, they have one of the highest proportion of their country vaccinated. For countries over 100,000 in population, the Maldives is only surpassed by Israel, OAE and the UK. And their current rate of penetration surpasses everyone.
As I noted in my December visit, with so much of their economy dependent on tourism (in fact, the highest proportion of GDP in the world), the pandemic's effect on travel means a double whammy to their country from this disease. From the outset, they have had strong incentive to tackle COVID-19 and to make extra investments in ensuring the safety of their destination. And that includes aggressive vaccination of the population especially in recent weeks. Of the Top 20 counties with the highest dependency on tourism, the Maldives was the runaway leader in proportion of population vaccinated (of countries over 100k population, see chart below).
Those investments appear to be paying off. Maldives visitor numbers have rebounded strongly. In fact, the Maldives appears to be turning adversity to advantage as many people around the world are extra keen on the Maldives' distinctive isolation to protect themselves during the pandemic. And as lock-downs have transformed the degree to which people can and do work remotely, people have all the more freedom to escape to the Maldives and work from there. If you are forced to hunker down and avoid contact with people, what better place to do it than a villa in paradise?