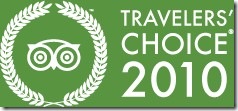 On the subject of Diva and being in the awards season, a second hat tip to Diva for being ranked the highest for 'Most Romantic' in its 'Travellers Choice Awards'. A big kudo since the Maldives are perhaps most famous a honeymoon destination. So they are the most romantic in an area considered one of the romantic in the world.
Johnny Mathis, general manager of Diva, commented on the prestigious recognition, "It is a fine achievement for the entire team after only one year in operation. This is indeed good news and will further boost our position as a prime destination for romance and honeymoons."
The TripAdvisor Travellers' Choice Award is the third international award for Diva, since opening in 2008. It follows Diva being named the best hotel in the Indian Ocean in Condé Nast Traveller's Hot List 2009; and 'Hideaway of the Year Award 2008' by prestigious German magazine, Hideaway.
Also, an honorable mention to Anatara Veli and Chaaya Reef Elliadoo who came in right after Diva.