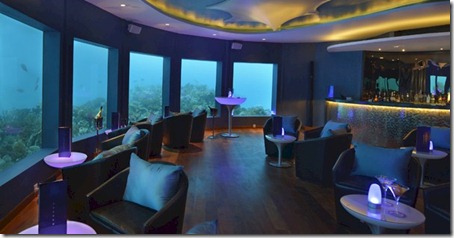 Of all the 'wow' factors in the Maldives, their most famous are their underwater features – restaurant (and bedroom), function room, spa. And now lounge. I might have to make a separate 'Best of the Maldives' category for them all.
The recently opened NIYAMA resort introduces its 'Deep Six' nightclub. Not just the first in the Maldives, but the first in the world…
"The world's first underwater club. International DJs. Global music. Splashes of colour – indigo, blue. Glass walls overlook a spot lit sea. Modern moods with a flair for the marine. Take the party below the sea for all-night dancing beneath the waves."
I think I would have to nickname the club 'Sebastian's Hideaway'…
We got a hot crustacean band
Each little clam here
know how to jam here
Under the sea.