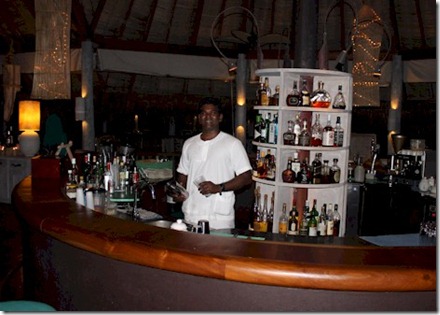 A refresher for the end of the day is a cocktail which can also sparkle, uplift, sooth or relax. The 'Doctor of Mixology' has to be Muthu Kumar, Head Bartender at Gili Lankanfushi's their Overwater Bar. He trained for 6 months in cocktail mixing. And looking at the dissertation length bar cocktail menu, you can see why. Gili offers…
24 Champagne Cocktails – including, "Sake – Cham" (Japanese junmai daiginjo sake, syrup and Champagne) and "Royal Lime Sorbet" (Fresh lime, syrup, Champagne mixed with lime sorbet)
19 Martinis – including, "Apple and Cinnamon Martini" (Organic apple juice, lime juice, syrup, cinnamon vodka, muddled with fresh apple and cinnamon), "Cardamom and Pineapple Martini" (Cardamom vodka, syrup and fresh pineapple juice)
12 "Herb Cocktails"
11 "Limbo" (Lime in Maldivian) cocktails
12 Vodka cocktails
6 Wine cocktails
9 Gin cocktails
10 Rum cocktails
9 Tequila cocktails
9 Brandy cocktails
8 Whiskey cocktails
10 coffee cocktails (5 hot versions and 5 cold ones)
6 "Signature Cocktails"
They also have 6 'Shooter' cocktails crowned by the house specialty the '7 Layer Shooter' – Muthu Kumar (With the W Retreat's signature '7 Layer Chocolate Cake' I am wondering if there is some sort of culinary law od physics that says you can pile up an ingredient on top of itself a number of times, but it is absolutely limited '7'. Sort of like the number of times you can fold a piece of paper in half).
It's not just the recipes that have variety, but the ingredients themselves. They stock 21 types of Vodka, 19 types of gin, 15 brands of Rum, 8 Tequillas, 29 liqueurs, 38 whiskies, 13 Apperitifs and 8 Digestifs, 18 Cognacs, 9 Grappas, 9 ports/sherries, 10 soft drinks, 11 juices, 7 smoothies, 7 lassis, 12 beers, 14 mocktails, 25 'spa' cocktails (eg. Ayurveda elixirs), 20 types of teas.
In short, 151 types of cocktail made from 248 types of drinks (and of course, you could have any of the latter straight up).
Stay tuned for Muthu's latest innovation as he is soon to introduce 'Smoky' cocktails to the already encyclopaedic mix.