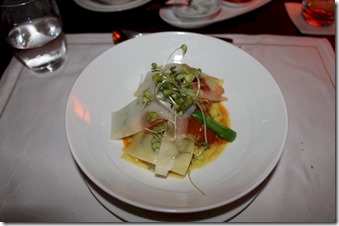 Bonjourno! Italy Day today is the occasion to celebrate all things italiano. And the best place to start is the cuisine. Many people think of Italian meal as heavy with the pastas and pizzas (and if you have ever sat through a Sunday family meal in Italy, then you indeed will know the true meaning of "stuffed"). In a hot tropical destination, one might not think of Italian. Usually, it seems that the Italian resort offerings are for the (a) unadventuresome, or (b) the kids (see #a). But Dusit Thani's Sea Grill restaurant brings an inventive gourmet touch to some true Italian mainstays…
Seafood Lasagna (see photo above) – Why don't more resort restaurants do more seafood pastas (instead of the ubiquitous bolognaise)?? It's a winge of mine that crops up regularly in my "

Haven't Seen Yet" series

(eg.

Lobster Mac and Cheese

).

Light Gazpacho (see photo below)– A twist on Gazpacho made from blanched tomato and garlic and force through cloth for a pure, clear essence of tomato served over tomato and soy garnish.
Now Lori and I go to Italy several times a year and eating are a big part of our visits not to mention that our hometown of London has its own sampling of Italian high cuisine. Gazpacho and Lobster Bisque are my two most favorite soups…and I love soup. I have gazpacho everywhere. And yet, never had never sampled anything quite so delicately exquisite as these two classics with almost ethereal twists.
Bravissimo!