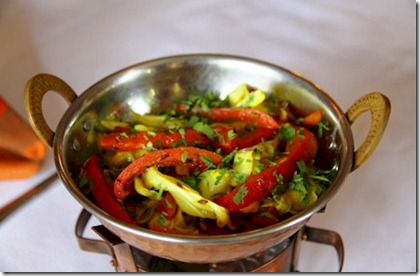 Happy Paryusana!
Paryusana is the "most important Jain festival". It is a feast after 10 days of fasting. Mind you the 'Jain vegetarians' aren't exactly gorging themselves in food in the normal times so I imagine that Paryusana must be particularly enthusiastic for them.
'Jain' vegetarians follow a very strict regimen based on their philosophy of "ahimsa" literally translated as "non-injuring". The notion of 'karma' is central with their belief that every act by which a person directly or indirectly supports killing or injury is seen as act of violence ('himsa'). As a result, even root vegetables (eg. potato, onion, garlic) are excluded because the 'uprooting' of them is seen as a violent act. The food they do include is referred to in Sanskrit as 'sattvic' food which means that it is "based on the qualities of goodness, lightness and happiness."
A very common question on TripAdvisor Forum is the availability of vegetarian food. Not just from the surging growth in guests from India and the sub-continent, but also around the world where vegetarianism continues to grow in popularity as a part of a healthy and eco-friendly lifestyle.
With vegetarian dishes being quite prominent in the region, a vegetarian always has a broad range of choices at the Maldives resorts. But Kurumba went a step further to create a special range of Jain vegetarian dishes. The Jain menu was implemented by prior Food and Beverage Manager Dave Minten and includes such delicacies as…
Cabbage with mixed Capsicum (above)
Cauliflower and Green Peas (below)
Cottage Cheese with Green Chili Tomato (bottom)
Wishing you all goodness, lightness and happiness on Paryusana.