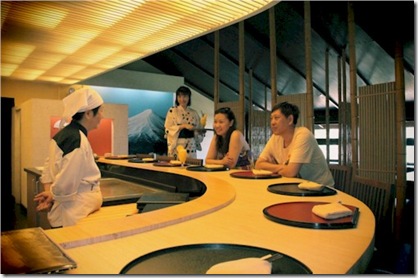 And another Happy Birthday…today to the Emperor of Japan.
To celebrate, it's time for another doff of the kabuto once again to all things Japanese in the Maldives, Adaaran Vadoo. This time, in this season that puts the 'feast' into 'festive', it is the Kitajima restaurant. Many resorts feature Japanese fare like sushi and tempura and some even have full fledged Japanese restaurants. But none as extensive and authentic as Kitajima. The materials used in building the restaurant, supplies used in preparing the dishes (except for the hyper-fresh seafood), and the staff straight from Japan (including the manageress who has been there since the opening).
"Adaraan Prestige Vadhoo is unique in the Maldives to offer a Japanese specialty restaurant. For those wishing a change of taste and scene you can try traditional Japanese meals ranging from fresh sushi to succulent tempura at the Kithajima restaurant. Our staffs have had many years of training and experience in the preparation of Japanese cuisine and will endeavour to prepare your selections to suit your preferences. Traditional Japanese favourites ranging from edamame and spring rolls to sushi, tempura and sashimi served with specially made sauces and accompaniments are just some of the dishes on offer to satisfy your cravings. Only the freshest of seasonal sea food and best ingredients are used in the preparation of the dishes. Many Japanese beers and Sake is available to enhance the dining experience."
????